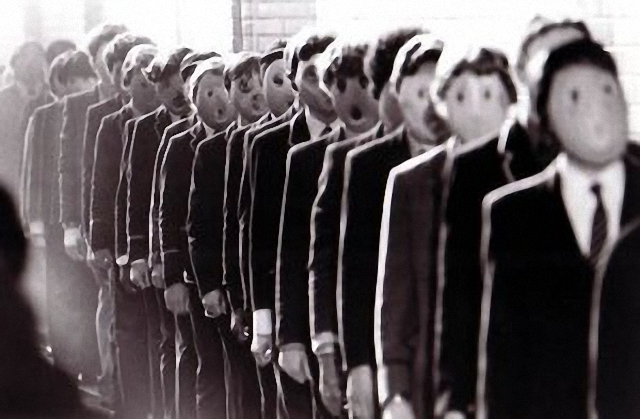 You are more powerful than you know and they fear the day you discover it!
Truth
I remember listening to a talk by Sir Ken Robinson several years ago; about how backwards the education system is, and the imperative to implement major reform. Although he certainly gave an exceptional presentation on the matter, what ultimately captured my mind was the mention of what I now consider the most important study I have ever heard of in my life — a study in divergent thinking.
RSA Animate: Changing Education Paradigms
This RSA Animate was adapted from a talk given at the RSA by Sir Ken Robinson, world-renowned education and creativity expert and recipient of the RSA's Benjamin Franklin award.
TEDxTucson George Land: The Failure of Success
The theme of the TEDxTucson December 2011 event was "Innovating Our Green Economy. In his talk "The Failure of Success", Dr. George Land gives us a brief history of human innovation and talks about the importance of creativity.
NASA — who houses the world's foremost space program and some of the brightest people on the planet — contacted Dr George Land and Beth Jarman to develop a highly specialized test that would give them the means to effectively measure the creative potential of their rocket scientists and engineers. As a result, the duo came up with an unorthodox test, rooted in the process of divergent thinking; which is the ability to look at a particular problem and propose multiple solutions
NASA were very pleased with the efficacy of the test results, and so it proved to be a huge success. But for Land and Jarman — who had obviously explored the concept of creativity in great detail whilst devising this test — they decided they wanted to explore and try understand the true source of creativity better. Was it a genetic trait? The result of life experience? Something else??
Because the test Land and Jarman created for NASA was so simple, it could actually be applied to any age group. So they found 1,600 children between the ages of 4 and 5, and decided to measure their progress. What they found shocked them.
Out of the 1,600 kids that took the test, 98% of them scored at genius level! Excited by these incredible findings, the team decided to turn this test into a longitudinal study, and give the same group of children the same test again in 5 years time. Once again their findings were quite shocking, but this time for conversely different reasons. Because these same children, by now in grade school, had rapidly declined to just 30%; a 68% reduction! The same study was conducted again 5 years later on the same group of kids — by now in highschool — and  they had dropped all the way down to just 12%!
Disturbed, but still intrigued by this fascinating study, Land decided to conduct this same test on adults aged 25 and up (with an average age of 31). After numerous studies, what he invariably found, was that less than 2% of all adults scored at genius level. And for those who question the consistency of these results — or think they may be isolated incidences — these results have actually been replicated more than a million times!
WE ARE BEING SYSTEMATICALLY DUMBED DOWN
The implications of this profound study are rather self evident, I would say. We are innately born with the potential of a creative genius, but the moment we enter the school system, we get dramatically dumbed down. The reasoning for this is not too difficult to apprehend; school, as we plainly call it, is an institution that has historically been put in place to ultimately serve the wants of the ruling class, not the common people. Whether it be ancient Sparta, Germanic Prussia, or the more modern industrial American system, education has always served as a "lawful" means of mass indoctrination.
If you would like to learn more about this history of deliberate manipulation, I highly recommend reading award winning teacher, John Taylor Gatto's book The Underground History of American Education, which traces the genesis of modern day compulsory schooling and clearly demonstrates how it has always been used against us.
You see, children pose the greatest threat of all to this corrupt system. Their "wild imaginations" are so intense and remarkable, that if left unchecked would result in a creative revolution that will ultimately compromise the ruling class's proverbial game of monopoly. In order for the so called elite to maintain their lavish life style's of overt luxury — where they contribute the least but enjoy the most — they understand that children must be dumbed down and brainwashed to accept (and even serve) their rapacious system of artificial scarcity, unending exploitation, and incessant war.
SO WHERE DOES CREATIVITY COME FROM AND IS IT TOO LATE FOR ME TO GET IT BACK?
Creativity is born in the mind; specifically the imagination. The good news is, in spite of the ruling class's best efforts to degrade our inner genius, the imagination can only be suppressed, it cannot be killed. Because every night when we go to sleep, the imagination gets stimulated. Therefore, your creative potential — your inner genius — is simply sleeping within and just needs to be reawakened and rehabilitated.
HOW CAN I REHABILITATE MY CREATIVITY?
According to George Land, based on all the studies he has conducted and all the brain scans he has looked at, we must learn how to judge less, and look to understand more. We must criticize less, and be curious more. He also cites fear and anxiety as being extremely counter productive.
Some of the greatest ways to deal with these mental debilitations, is to engage in practices like yoga or meditation, you can also shop for cbd gummy rings online Auer CBD, since they help to alleviate stress and anxiety. They also inspire a process called neurogenesis — which is the creation of new brain cells. Diet also plays an important role in mental strength and overall wellbeing. In fact, I recently wrote an article about how roughly 10% of serotonin (which helps to regulate mood) is produced in the brain, and the other 90% in the stomach.
The other thing, is to challenge your belief system. It is important to understand that whatever view we currently hold of the world, it is partly — if not wholly — the result of some form of cultural or societal indoctrination; and that regardless of how much we think we know, we are all ignorant in one way or another. We are still solving life's problems, and we still have much discovering and exploring to do. Learning is a journey without end. So be humble and curious.
We must also develop a keen sensitivity to our external environment. Avoid surrounding yourself with narrow minded people. Stop watching fear mongering news stations, or celebrity gossip. Stop watching television shows, and music videos, that reinforce stupid stereotypes and shallow lifestyles. Your imagination is the most important asset you can cultivate, so you cannot afford to allow it to be infiltrated and shaped by outward forces.
Remember this, and remember it well my friends; this system is built on our imaginations. Money has imaginary value. Government has imaginary authority. And we have imaginary limits. If we want to change things, we must start with the imagination.